About Sole Source Restoration
Sole Source was founded with the mission of providing the highest quality restoration services consistent with top-of-the-line customer service. Since it's founding, Sole Source has restored both commercial and residential properties all across New England, offering free consultations, 24/7 emergency response, and a satisfaction guarantee.
Why Choose Us?
Whether your commercial or residential property has been damaged by fire, water or mold, or you fear it may have been infected by the coronavirus, our 15 years of experience have given us the tools, expertise, and certifications to get the job done right. Not convinced yet? Here are 8 reasons why Sole Source Restoration is the right choice.
The Reasons:
- We are fully licensed and insured
- We service residential, commercial, and municipal properties
- We offer FREE consultations
- We respond to your call 24/7
- We are EPA-Approved, because we love the environment too
- We are Occupational Safety and Health Administration (OSHA) Certified, 
- We are Institute of Inspection Cleaning and Restoration (IICRC) Certified
- We offer a total satisfaction guarantee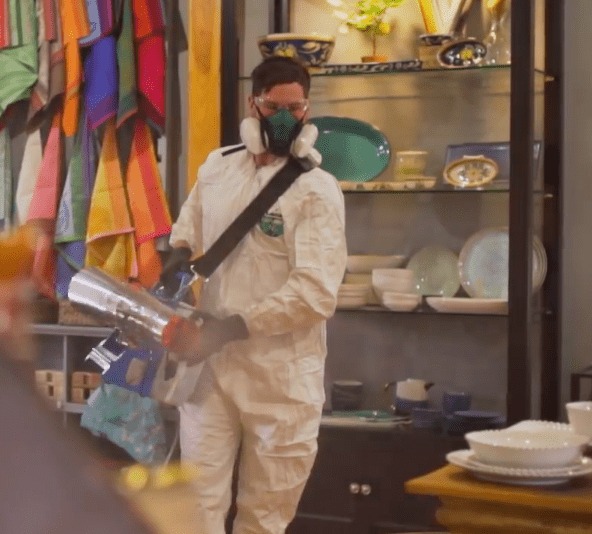 A Cutting-Edge Approach to Coronavirus Cleaning & Disinfecting
Micro Thermal Fogging & Electrostatic Spraying, our two methods for quickly eradicating 99% of virus traces, require top-of-the-line equipment found at no other restoration company in New England. (That's right, not one.) Check out the video to see just how this disinfecting technology works.
Are These Methods Safe?
Yes, they are. Thermal Fogging sprays a disinfectant powerful enough to kill 99% of viruses quickly, but won't pose a threat to you, your children, or your pets upon re-entry. For safety guidelines pertaining to MTF, visit cleanfax.com/restoration/effective-thermal-fogging/
Our Dedicated Team
Say hello to the team that works tirelessly to restore your commercial and residential properties.
What Our Client Says
Quick Response
I called Sole Source for a coronavirus clean-up, and within 36 hours they had given me an estimate and started disinfecting the house. Great work!
- Kate H.
Superior Technique
The school needed a thorough clean, so we called Mike. The thermal fogging device they used was far superior to any bottle of spray & cloth, and way quicker!
- Jake B.
Professionalism
The tenants of my apartment complex were worried about the safety of common areas due to COVID-19. Sole Source Restoration helped me by promptly answering my request.
- Justin F.
Our Happy Commercial Partners